The island's renowned film festival celebrates its 15th edition from June 24 to July 1 2017: feature and short films, documentaries, exhibitions and conferences are about to debut in Ischia's most scenographic locations, creating a little miracle in the name of the cinema
The liaison between Ischia and the history of cinema has been lasting for over half a century. In fact, the island is a real open air film set, where many of the most talented actors and directors have given their contribution to the Seventh Art.
Since 2003, the Ischia Film Festival has brought in such cinematographic cradle some of the best international feature and short films, documentaries and people: the 15th edition is about to debut, starting from June 24 to July 1 2017.
"This is an extraordinary festival, especially considering the limited resources which have always been used to create it", said Boris Sollazzo, at his first edition as co-director with Michelangelo Messina, who is also a founding member. "In the last few years, many Oscars and Donatello's David awards have been in Ischia and this event is a little miracle. I wish Ischia became a sort of focal point, a place to talk about the cinema and for the cinema".
The program of Ischia Film Festival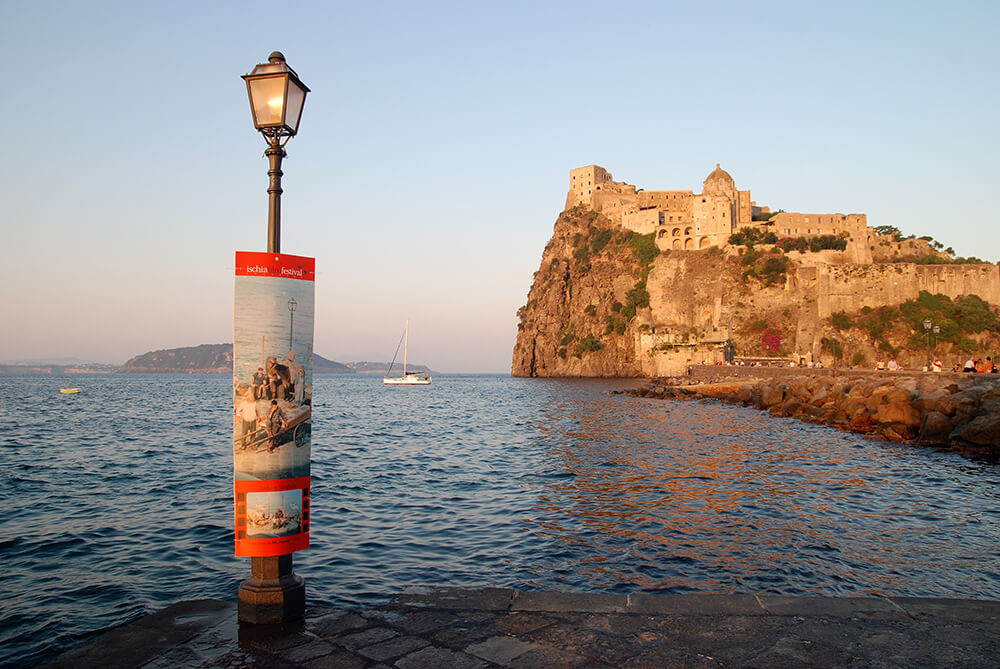 Reflecting on the concept of location and creating a dialogue between authors and audience
Throughout the last week of June, the IFF will put the spotlight on feature films, short films and documentaries screened to the public for the first time in 2016 or 2017.
The focus on cultural identity and the importance given to the location is a common denominator of those films. This is building a strong relationship between culture, traditions and territory on screen. "This year our goal is to widen the concept of location, which not only means a landscape or a cultural identity. First, as a film festival, we must focus on a location when it has a prominent role, for example when an entire film takes place on a train or in a car. Second, we have to talk about locations in a more abstract way, to break the mould and consider locations in films but also in tv series and documentaries", continues Sollazzo.
Furthermore, the so called film location tourism or cine tourism has always been an important issue for the Festival and Ischia is not new to this phenomenon: the island has been featured in many unforgettable films, from Cleopatra to The Talented Mr. Ripley and many more.
Another characteristic of this Festival is the opportunity to create a critical dialogue between authors and audience. So, in addition to several projections a day, there are many other events to attend, such as exhibitions, workshops and conferences.
For its 15th edition, director Krzysztof Zanussi will be president of the Ischia Film Festival and there will be an important retrospective dedicated to Pasquale Squitieri, recently passed away and great friend of the event. The Ischia Film Festival 2017 program is still under construction, but you can easily read any update on the official site (which is available in both Italian and English): www.ischiafilmfestival.it
Ischia as an open air set: all the locations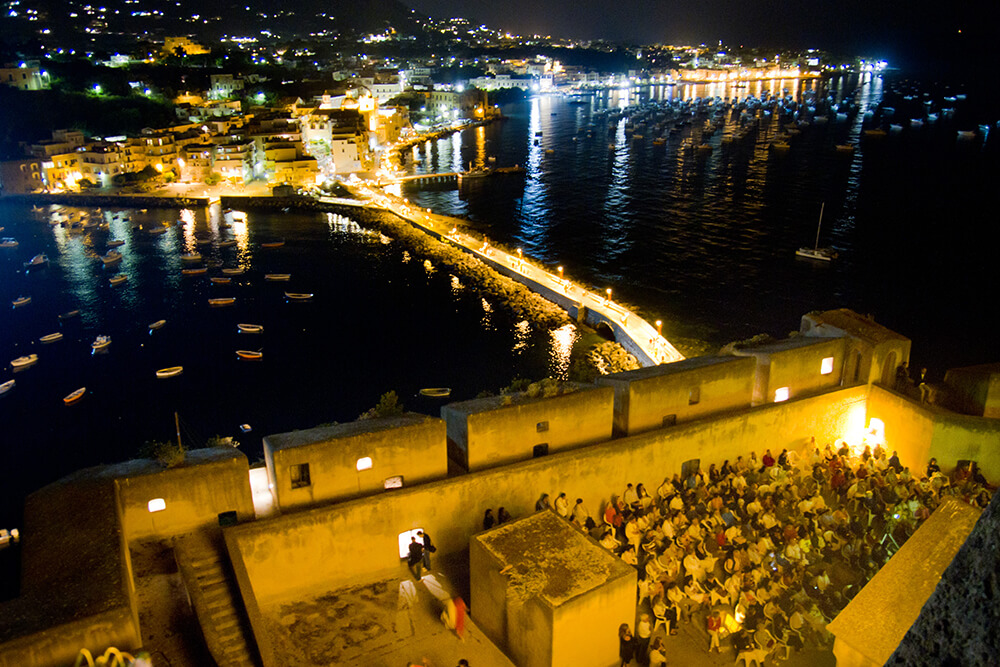 Natural and architectural scenography to host many events
The unconditional love of filmmakers for Ischia is easy to understand: natural and architectural scenography is everywhere. These landscapes become an opportunity to attend the Film Festival but also to visit the island of Ischia at the same time. Following an unusual itinerary, it is possible to discover:
Aragonese's Castle

Terrazza degli ulivi (Olive Terrace)

Carcere Borbonico (Bourbon Prison)

Saletta del convento (Hall of the monastery)

The Church of S.Pietro in Pantaniello

Assunta's Cathedral

Piazzale delle Armi

Casa del Sole (House of the Sun)

Terrazza Convento (Convent

Terrace)
All of the above places will host many events, turning Ischia into a new capital of the cinema, where landscapes of rare beauty and the works of talented filmmakers will conquer everyone.
Are you going to the Ischia Film Festival?
Boat transfers from Naples airport to Ischia and other services
If you are interested in attending the Ischia Film Festival, maybe you will need some useful information about boat transfers from Naples airport to Ischia. There are many exclusive services that Ischia Charter Boat offers to its customers:
Private car and boat transfer from Naples airport to Ischia;

Private car and boat transfer from Naples airport to Capri;

Private boat rental from Ischia to Capri (and vice versa).
Moreover, our private boats can take you directly from Naples to the main hotels, such as:
Hotel Regina Isabella in Lacco Ameno;

Hotel Mezzatorre in Forio d'Ischia;

Hotel Excelsior in Ischia Porto.
Feel free to contact us and book your private boat charter in Ischia!